Sjoa Double, Rafting
Address: Heidalsvegen 829, 2677 Nedre Heidal
Show map
Address: Heidalsvegen 829, 2677 Nedre Heidal

This is Norway's longest full day white water rafting trip!
In total we raft about 33 km from the start above the Åseng canyon to where we end a few km before Sjoa meets Gudbrandsdalslågen.
This is the longest full day rafting trip in Norway!
Exactly what section we do first depends on the water level, but normally we do the day trip section of approximately 15 km before lunch. After lunch we paddle through the wild and inaccessible Åseng canyon where you will feel your adrenalin pump extra hard.
We end the trip with a warm shower and hot lunch at our base.

Age limit: 18 years
Starting time: Kl 10.00
Total time: Ca 8 hours
Show more
About this activity
Phone number (booking)

Contact person email
Hotel
Distance: 26.8 km
Beautifully situated at the top of the mountain valley of Espedalen at 930 meters above sea level, Dalseter Høyfjellshotell has a wonderful view of the valley and the mountains in Jotunheimen National Park.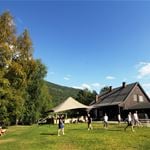 Hostels & guesthouses
Distance: 0 meters
At our base we have big rooms that you can stay in which overlook the beautiful Sjoa River.
Hotel
Distance: 28.6 km
Sygard Grytting is a distinguished medieval farm hotel, with a history dating back 700 years. It is among Norway's most beautiful and best preserved of its kind, and looks like it belongs in one of the folk legends. Guests can stay in farm buildings dating from 1650 to 1860, and enjoy a hearty traditional meal prepared with fresh ingredients from own vegetable and fruit garden. The hosts at Sygard Grytting are the 16th generation owners of the farm.