Caving
Address: Heidalsvegen 829, 2677 Nedre Heidal
Show map

Address: Heidalsvegen 829, 2677 Nedre Heidal

A beautiful trip to the cave close to Rondane National Park, for any non-claustrophobic explorer.
Formed by the pressure from tons of ice long time ago, the cave system of Rondane National park gives us a chance to explore the fascinating underground world.
The trip begins with a mild 45 min hike through the national park. On the way, we stroll past cascading waterfalls and cold clear mountain streams. At the entrance to the cave, we take a short rest while we receive instructions and take in the panoramic view of the Rondane Mountain range. Inside the cave we crawl, slide, wriggle and scramble our bodies around to negotiate the narrow passages.
Time inside the cave is 45 min. Helmets and lights are provided. Warm clothing (not your best clothes!) required. Bring lunch pack.

Age limit: Must turn 7 by the end of the year
Starting time: Kl 10.00
Total time: Ca 5-6 hours
Show more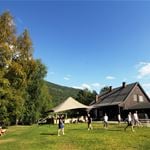 Hostels & guesthouses
Distance: 0 meters
At our base we have big rooms that you can stay in which overlook the beautiful Sjoa River.
Hotel
Distance: 26.8 km
Beautifully situated at the top of the mountain valley of Espedalen at 930 meters above sea level, Dalseter Høyfjellshotell has a wonderful view of the valley and the mountains in Jotunheimen National Park.
Hotel
Distance: 28.6 km
Sygard Grytting is a distinguished medieval farm hotel, with a history dating back 700 years. It is among Norway's most beautiful and best preserved of its kind, and looks like it belongs in one of the folk legends. Guests can stay in farm buildings dating from 1650 to 1860, and enjoy a hearty traditional meal prepared with fresh ingredients from own vegetable and fruit garden. The hosts at Sygard Grytting are the 16th generation owners of the farm.